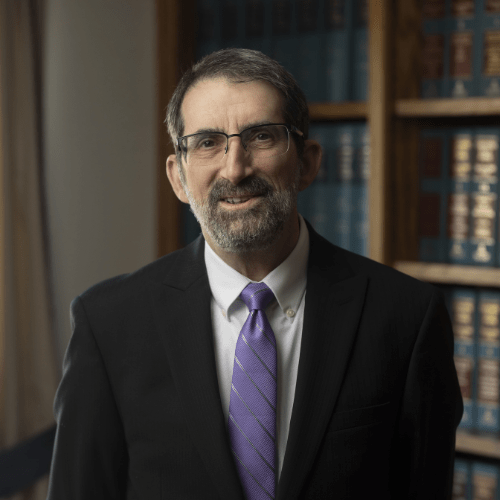 Doug Jacobs
Attorney
Mr. Jacobs was admitted to the California Bar in 1978 and has been in the private practice of law ever since. As house counsel for a franchise corporation, he has been a member of the American Bar Association committee on Franchise law and has served on the California State Senate small business sub-committee on Franchising.
Today, Mr. Jacobs confines his practice to consumer bankruptcy, and business and real estate litigation.
Mr. Jacobs has taught Constitutional law and Debtor-Creditor/Bankruptcy law at Cal Northern School of Law continuously since 1988. He has been the Dean of Students there since 1994.
He wrote for and was a member of the Bankruptcy Law Network, a group of experienced and knowledgeable consumer bankruptcy practitioners. Additionally, he wrote for Money Health Central on a myriad of financial matters and for the Mortgage Law Network. Mr. Jacobs has authored a chapter in the Aspatore book on "Chapter 7 Consumer Bankruptcy Strategies," and has spoken on Bankruptcy law at the Sacramento Valley Bankruptcy Forum, the Central California Bankruptcy Institute, the Southeastern Bankruptcy Institute and at the annual convention of the National Association of Consumer Bankruptcy Attorneys.
Memberships
Mr. Jacobs is a member of the National Association of Consumer Bankruptcy Attorneys, the Sacramento Valley Bankruptcy Forum, and the Butte County Bar Association.
Bankruptcy FAQs
The term "bankruptcy" encompasses several different legal methods of dealing with debt. Below we have tried to ease your fears and give you additional information on what filing entails and how we can help.
The term "bankruptcy" encompasses several different legal methods of dealing with debt. It is codified in a federal law: Chapter 11 of the US Code. But the concept of a system to give someone relief from his or her debts has been around since the Old Testament. A verse in Leviticus (one of the original five books of Moses) speaks of forgiving the debts of one's neighbors every seven years. Additionally, our Constitution specifies that Congress shall enact uniform bankruptcy laws.
Filing Bankruptcy is everyone's right under our laws. It is nothing to be ashamed or frightened of, but provides an opportunity to end the suffering and stress of being over ridden by debt. There are basically two types of bankruptcies: liquidation and reorganization. Liquidation generally refers to Chapter 7 bankruptcies - available for both individuals, married couples and businesses. There are 3 general forms of reorganization: Chapters 11, 12 and 13. Chapter 11 is available and appropriate for large businesses and individuals with considerable assets and debt. Chapter 12 is used for family farmers or fishermen. An Chapter 13 is the general form of consumer reorganization.
No. Typically, you can keep your home, a car or two, all your clothing, household furniture and utilities, retirement accounts, and even some jewelry and heirlooms.
No. Although filing bankruptcy is public record, it is rarely published in the newspaper, or made a news item on radio or television. Your neighbors, unless they typically review bankruptcy filings on the internet in your district, will never know unless you tell them.
Most people who file bankruptcy have a lower than average FICO or credit score when they start the process. Generally, it will drop further when the credit bureaus become aware that you filed. After that initial drop, however, credit scores tend to rise after a bankruptcy is filed. It might take a year or two and there are several things that you can do to improve it right away.
A bankruptcy filing will stay on your credit report for 7 years if you file a Chapter 7 bankruptcy and for 10 years if you filed a Chapter 13 bankruptcy. But they generally will not be a hinderance or limit your FICO score after a year in a half to 2 years. Even the Federal Government indicates that after a year or two from filing bankruptcy, in most cases, the bankruptcy will not prevent you from qualifying for a Government insured loan to buy a house.
Once you have decided to file, there are forms that need to be carefully prepared and reviewed, signed and then filed. That can take anywhere from a couple of days to a week or two. The quicker you can get the information needed – typically, a list of debts and assets – to your attorney, the sooner the forms can be prepared.
Most Chapter 7 consumer bankruptcies cost between $1500 and $2500. On top of that are filing fees which go to the court, and additional charges for the two credit counseling courses that need to be completed. For a Chapter 13 bankruptcy, the typical price for a consumer or married couple is $4000 plus costs. But, whereas most attorneys require you to pay the entire cost for a Chapter 7 before it is filed, most attorneys will allow you to pay part of the Chapter 13 cost before foiling since they can build the rest of the payments into the normal monthly payments made in the Chapter 13.
<h3>Chapter 7</h3>
Chapter 7 is the most common form of bankruptcy; and is what most people believe bankruptcy to be. The basic concept is that all of your property is turned over to a Bankruptcy Trustee; hired by the US Government; who will administer the bankruptcy estate. Basically this means that your non-exempt property will be sold and the money used to pay any liens on the property, administrative costs, and then unsecured creditors.
Fortunately, your exempt assets aren't taken and sold. Often that includes your home and a car or two.
Exemptions vary from State to State. In California, those exemptions come in two groups and you get to pick which group you want to use. The first group includes a homestead exemption and another for cars. The other exemptions include a general exemption of about $28,000 for everything. Choosing the right exemptions can be critical to keeping as much property as you can. Fortunately, you can, under almost all circumstances, amend your exemption list when necessary.
The Process:
First of all, meet with a competent, experienced bankruptcy attorney. Most of the time, those first appointments are free and will allow you to get a lot of quick answers about your specific case; meet the attorney and develop a rapport with him or her; and understand the next steps, timing of the process, and total costs.
Often at the first meeting the attorney will provide you with some forms to fill out; listing your assets and debts and providing some general information about your case. You will also learn about the cost, when it is due and how you can pay it.
This is the basic liquidation bankruptcy. It is available for most individuals and businesses of all sorts.
Individuals must qualify to be entitled to file a Chapter 7 bankruptcy by ensuring that their income is below a median level established by the IRS or their disposable income is less than (roughly) $200 a month. Both requirements can be determined by competing Official Bankruptcy Form B22a the "Means Test."
Simply put, this form determines your disposable income at the end of the month. You must complete the form to file a Chapter 7 or Chapter 13 if you are an individual or married couple and your debts are not primarily business Much has been written about what deductions you can take, how to determine disposable income and the entire process of "qualifying" to file a Chapter 7 bankruptcy. Some of that discussion is available on this site; but to accurately analyze your situation, it is probably best to find a competent bankruptcy attorney in your local area. My recommendation to do that is to go NACBA.ORG (the web site of the National Association of Consumer Bankruptcy Attorneys) and search there. [Of course, if you live in Northern California, please contact our office and we can either help you ourselves or refer you to competent counsel.]
CHAPTER 7
This is the basic liquidation bankruptcy. It is available for most individuals and businesses of all sorts and is the most common form of bankruptcy. (Read more in the tab above.)
CHAPTER 11
Generally, chapter 11s are used for business reorganizations or when a consumer doesn't qualify to file a chapter 13, but needs a reorganization rather than a liquidation.
CHAPTER 12
This is a bankruptcy for a family farmer or fisherman.
CHAPTER 13
This is a reorganization bankruptcy used for consumers. One must have less than $360,000 worth of unsecured debt and less than $1,060,000 worth of secured debt.
Contact Us Today For Legal Help
20 Independence Circle, Chico CA 95973
Mon-Thurs: 9:00am-12:00pm and 1:00pm-4:30pm 9:00am-12:00pm Fri